REVEILLON 2021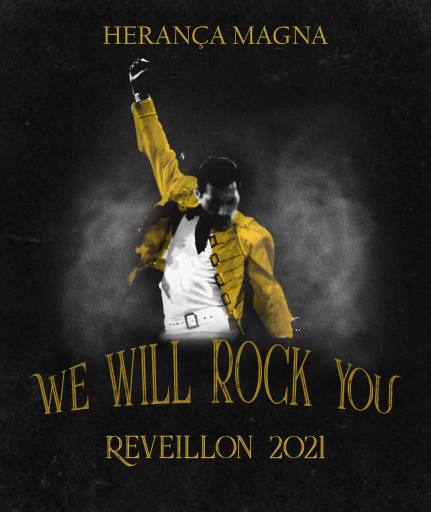 WE WILL ROCK YOU! Réveillon Herança Magna 2020 / 2021

A special night to remember the sounds of the 70s, 80s, 90s and a place where you can relive
one of the greatest bands of our time, the QUEEN. Join us!
Show Time, with the special participation of the band A Kind of Queen

A Kind Of Queen celebrates the music of the legendary Queen, one of the greatest rock groups of all time. The concerts are accurate in visual and sound terms. It's like having the Queen with Freddie Mercury in front of you again!

DJ with an excellent music selection

Special moment for children that will make the delight of the youngest!

Dress Code: A Kind of Magic, casual smart
20h00 | Opening
Liquid Appetizers: Gin Tonic, Kir Royal, Sparkling wine, Port Tonic, Orange Juice;
20h30 | Reception
Solid Appetizers: Smoked salmon canapés and cheese, shrimp and anchovies; Meat rissoles, Spicy samosas, Codfish fritters; Plums with bacon
Regional Table: Prawns and Shrimps; Octopus with Vinaigrette, Mussels with Green Sauce and Tricolour Pepper, Regional bread Sausage, Regional smoked Sausage and Laminated Smoked Ham; Rye bread stuffed with bread stew with Regional Chorizo and Cheese; Corn Bread and laminated bread.
21h00 | New Year's Dinner, Table Service
Soup Asparagus cream with smoked ham crunch;
Fish Codfish "Zé do Pipo" style;
Palate cleanser Ice cream with champagne and lemon
Meat Veal from Arouca Region (a mixture of stakes and ribs), with vegetable tartlet, baked potatoes and smoked rice;
The vegetarian option must be requested when booking
Appetizers Garlic bread with virgin olive oil, Vegetarian samosas, Vegetable puffs and Quail eggs with "aurora" sauce.
Main Dishes Tagliatelle with oregano, quail's eggs and wild mushrooms and Oat pastry with pine nuts and raisins rice.
Dessert and Cheese Table (buffet):
Bolo Rei (typical Christmas fruit cake), Sponge Cake, Christmas Chocolate Cake, Sweet French toasts; Pudding, Chocolate and Mango Mousse Shots, Milk Custard, Cheesecakes and various Cakes, Bowls with laminated fruit;
Cured cheese, Creamy cheese, Typical mountain cheese, Stuffed cheese, Assortment of jams, Marmalade, Goiabada (guava jam), Honey, Bread, Crackers and Toasted bread.
00h00 | Welcome 2021 Sparkling wine and raisins for all participants
02h00 | S. Sylvester's Supper Pork fillet sandwiches, bola de carne (typical salty cake with meat), mini pizzas, mini croissants, caldo verde (typical cabbage soup) and corn bread.
Drinks included during all the event: White/red wine, beer, orange juice, soft drinks, and coffee.
Drinks included during all the event: White/red wine, beer, orange juice, soft drinks, and coffee.
We have renewed our space, reinforcing the comfort and safety of our clients. We hold the Clean & Safe Seals of Tourism of Portugal and the Safe Travels of the WTTC, for the commitment and compliance with the rules of contingency and sanitation advised by DGS. There may be changes to the Programme if there is a change in the standards issued by the DGS and the Ministry of Health.
Program I - 20h00 - All Inclusive
Program II - 23h00 - Sparkling wine + Supper + Open Bar
Booking & Info: 910 559 470 | comercial@happydiscover.pt - 910 555 650 | booking@happydiscover.pt
| | | |
| --- | --- | --- |
| | Reservations with prepayment | |